Audio Visual Supervisor, Norfolk Campus
Angel Tree tradition brings Christmas cheer to kids in need
Christmas is when Debra DeMills-Smith's mission shines brightest.
Since 1997, TCC Norfolk has participated in The Salvation Army Angel Tree Christmas fundraiser, a program that puts toys under the Christmas tree and lends a hand with holiday events, under her supervision.
Millions of children in America will go without Christmas gifts because their parents can't afford them.
Through the Angel Tree Program, anonymous donors adopt children in need, or "angels," by picking up an ornament that includes the child's first name, age, clothing and shoe sizes, and specific items of need. New shoes and coats are popular requests.
Debra runs the angel adoption here at TCC with Santa-like precision, picking up the list, checking it twice, and organizing the present collection and drop-off.
Her enthusiasm is contagious. They started with 50 names. Last year, 110 children were "adopted" by 76 faculty and staff participants.
"We target employees, but students hear about it and they'll jump in and donate too!" Debra says. "All our closets and drawers are packed to the brim with presents. I can barely get in my office as we get closer to Christmas!"
When asked if she considers herself TCC's Mrs. Claus, Debra is clear: "Absolutely not! The real Santas are the folks that dig deep and shop for a child they may never meet."
"I have nine siblings," Debra said. "If it was not for the Salvation Army there would have been many times at Christmas we would not have had a thing – no toys, no clothes, no food. I know firsthand what it means to be a recipient of kindness from strangers, that is my only motivation."
And it's clear that the spirit of generosity is what motivates her and the donors: "Our participants love the shopping and many get their kids and grandkids involved in giving back to pass on to the next generation that helping those less fortunate is the right thing to do."
Why donate to Angel Tree?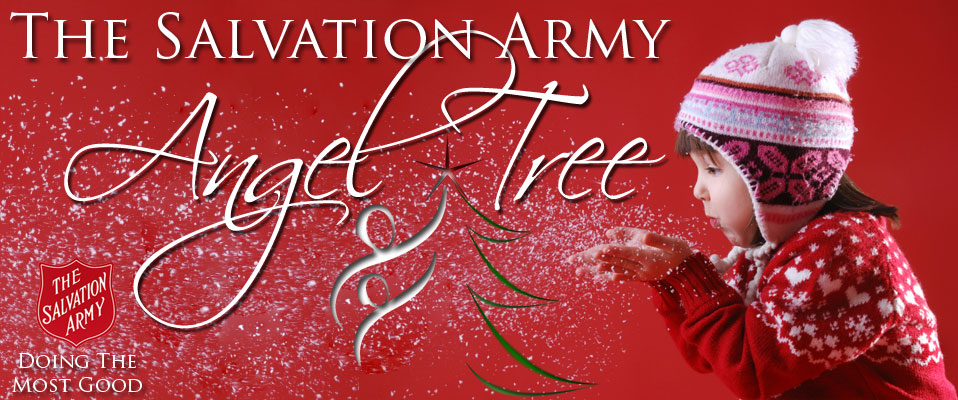 Angel Tree doesn't require a significant commitment of money or time, so it's an excellent choice for donors with very small budgets as well as for those who are able to make a significant contribution. And it's especially fitting for our Merrymaker giving personality types!
"Everyone has fun shopping for the kids' toys and clothing," says Debra. "It makes season is brighter for the gift giver and receiver."
Help make Christmas merry for a family in need. Visit employeegiving.tcc.edu or email Debra at ddemills@tcc.edu to learn how to get involved in our college-wide Angel Tree initiative.